08/10/2020
【Web Seminar Notice】12th October, Monday, Studio Pierrot that produced , , etc. will hold the seminar about animation!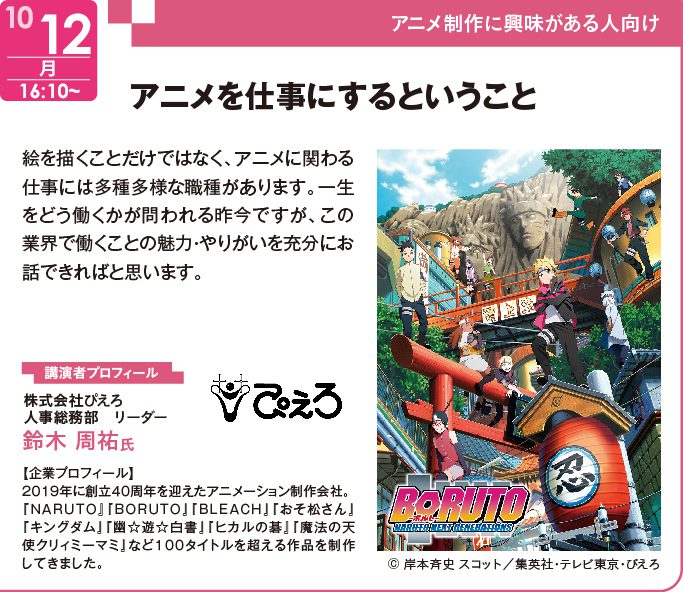 Japanese Time: On Monday October 12, 2020, 16:10, Kobe Denshi will invite the famous animation company「Studio Pierrot」to hold a seminar about animation. The main content is to introduce the different work and profession in animation.
Japanese Time: On Monday October 12, 2020, 16:10~(about one hour and half)
Style of Seminar: live broadcasting in Zoom
Language in Seminar: Japanese (There is no interpreter)
The speaker: Human Resources and General Affairs Department of Studio Pierrot
                         Leader  Shusuke SUZUKI
Theme of Seminar: 「let's talk about doing animation as a work」
With growing up, "what do you want to do", or "what do you want to be in the future", we also are asked the question such as those. In animation, there is not only animator. You also can find kinds of works. I will introduce the appeal of animation and different works.
Method of Application: the official homepage of Kobe Denshi https://www.kobedenshi.ac.jp/taiken/report/
If you are interested, the staff will send you detailed login information with email after you register through the official homepage of Kobe Denshi.
■the profile of Studio Pierrot
Studio Pierrot, founded in 1979, the member of Japan animation association, is a famous Japanese animation company. The representative works include: 『Yu Yu Hakusho』, 『NARUTO』,『BORUTO』,『BLEACH』,『Black Clover』, 『Boruto: Naruto Next Generations』,『Tokyo Ghoul』, and 『Great Teacher Onizuka』, etc.
The seminar of Kobe Denshi and companies
IT, robot manufacture, game software programming, animation, 3 DCG, graphic design, sound design, voice acting, industrial design, architecture, interior design, etc., in Kobe Denshi, while you learn those professional skills, you also can join in lots of seminars in different industries. Kobe Denshi invites professionals from different companies to hold professional seminars, corporate presentation, students' work appreciation, etc., such as various communication activities, students can communicate with companies by face-to-face. It's a good way for students to get the latest information, and its also a good chance for companies to find talented human resources.
Application for Seminar
Telephone:  0120-449-467 (Japanese time: weekday 9:00~17:00)
Official Homepage: https://www.kobedenshi.ac.jp/taiken/report/
Line: the official account of Kobe Denshi https://line.me/R/ti/p/%40qub6712u
※The people who is not the student of Kobe Denshi, can apply above to attend the seminar in free. Depending on the requirements of the seminar, there will also be a limit on the number of participants. Please apply as soon as possible!
The seminars always are hold with the way that companies come to Kobe Denshi (offline style). However, due to the impact of the COVID-19 in this year, Kobe Denshi and companies also actively adjust the form of seminars with online, the combination of online and offline, offline that company comes to our school, so that companies and students can keep communicating as usual.
So, it's a really good chance for overseas students who are interested. You also can apply the online seminars.  Please keep following the official information of Kobe Denshi!!!
share