03/03/2021
The presentation of the first-year in department of Japanese: 「the person you want to meet」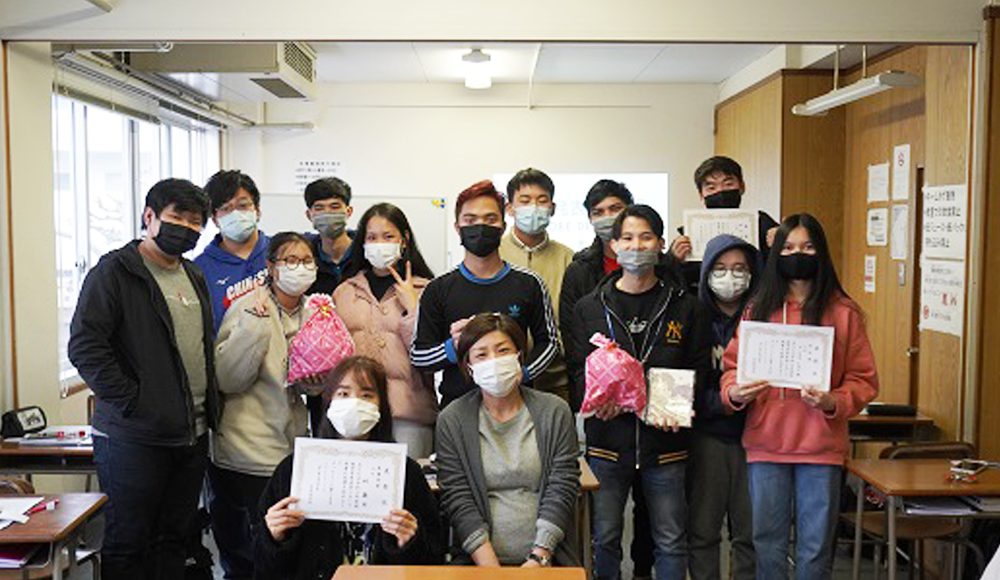 The Department of Japanese, as the name implies, is for international students who want to learn Japanese. Therefore, there are students from China, Taiwan, Vietnam, South Korea, Mongolia and other countries and regions.
Term-end presentation
In February 26, as one part of final exam for first-year students, the presentation was hold.
They were supposed to come to Japan in April, July, and October last year, however, due to the COVID-19, they couldn't come to Japan as scheduled, and had been waiting for a long time. Then, the department of Japanese has started the online class from October. Students didn't come into Japan until December that the immigration restrictions were lifted.
Although, everyone is very close regardless of class from online class, it's a big surprise for students after they met each other in school. Regardless of nationality or gender, everyone is very close.
Before the presentation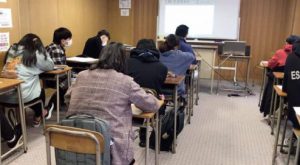 Students of class Ⅰ are seriously preparing!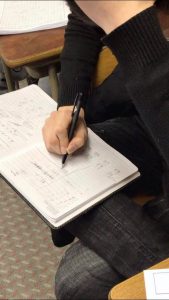 He is writing something like secret code, it's a unique way of remembering!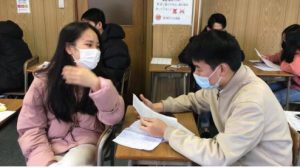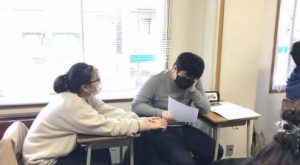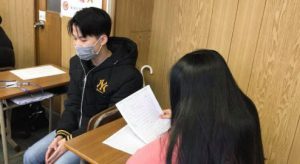 Students of class Ⅱ are working together to practice the pronunciation.
The presentation
The theme is 「the person you want to meet」.
Students should give the speech without manuscript.
While showing a photo, they would give the speech.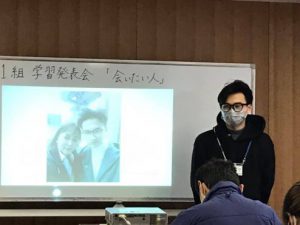 The first presentation in class Ⅰ was Mr. BUI from Viet Nam.
He expressed his gratitude to his mother who works hard for the family.
The most nervous is the one, however, he did his best.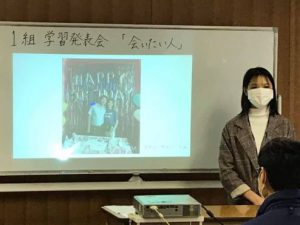 Mrs. PHAN from Viet Nam introduced her father. Her father can do anything, cooking for family, cleaning up the house, planning a travel with family on holiday, etc. Mrs. PHAN is always proud for her father.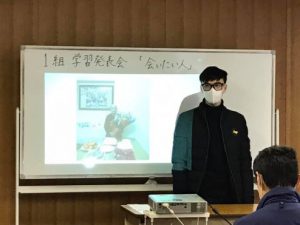 Mr. NGUYEN from Viet Nam wanted to meet his grandmother who taught him the important thing of life. That is 「Never tell a lie; Never steal; Keep a promise」. He wants to be the person that his grandmother is proud of.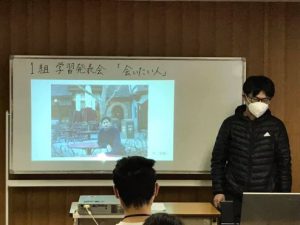 The presentation of Mr. BIAN from China was about his teacher in middle school. 「Never to be satisfied what people tell you, thinking about the future by yourself.」, he has been remembering this word from his teacher, that's way he came to Japan for studying.
It seems that he made contact with his teacher for the first time since graduating from middle school, triggered by this announcement. The teacher would have been happy!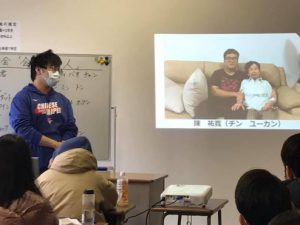 The presentation of Mr. CHEN from TAIWAN was about his favorite grandmother. Even his grandmother can't remember his name because of the age, Mr. Chen always introduces himself to his grandmother every time.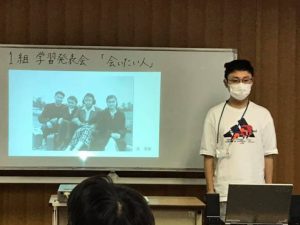 Mr. SUN from China introduced his grandfather who took care of him instead of his parents. His grandfather studied in a university of Russia 60 years ago, and was very excellent person. It's a great memories for Mr. SUN even his grandfather passed away from the world a few years ago.
Award Ceremony
The students voted the best.
The award recipient of Class Ⅰ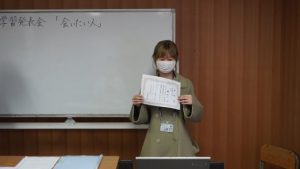 Mrs. YANG from China.
She introduced the Japanese teacher whose she met in the online class.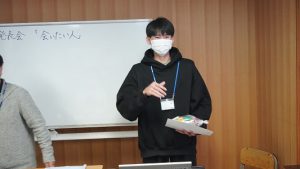 Mr. TUAN from Viet Nam talked about his memories for his late grandmother.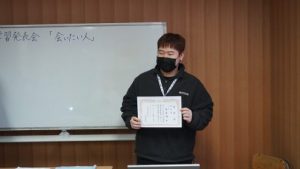 Mr. YUAN from China told a story about his kind friend.
The award recipient of Class Ⅱ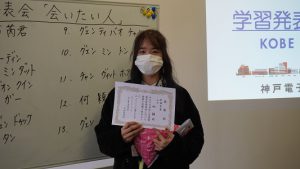 The presentation of Mrs. YANG from China was about her best friend.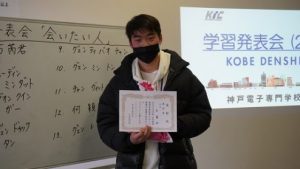 Mr. WANG from China introduced his girlfriend in China. They plan to make the animation together in the future.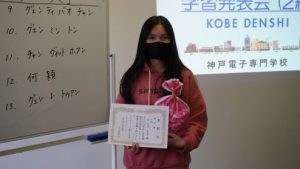 Mrs. THUY from Viet Nam talked about her memories with her dear grandmother.
 All of presentations were very surprised and excellent.
It's only 3 months that students of first-year just came to Japan. They gave the speech fluently.
share